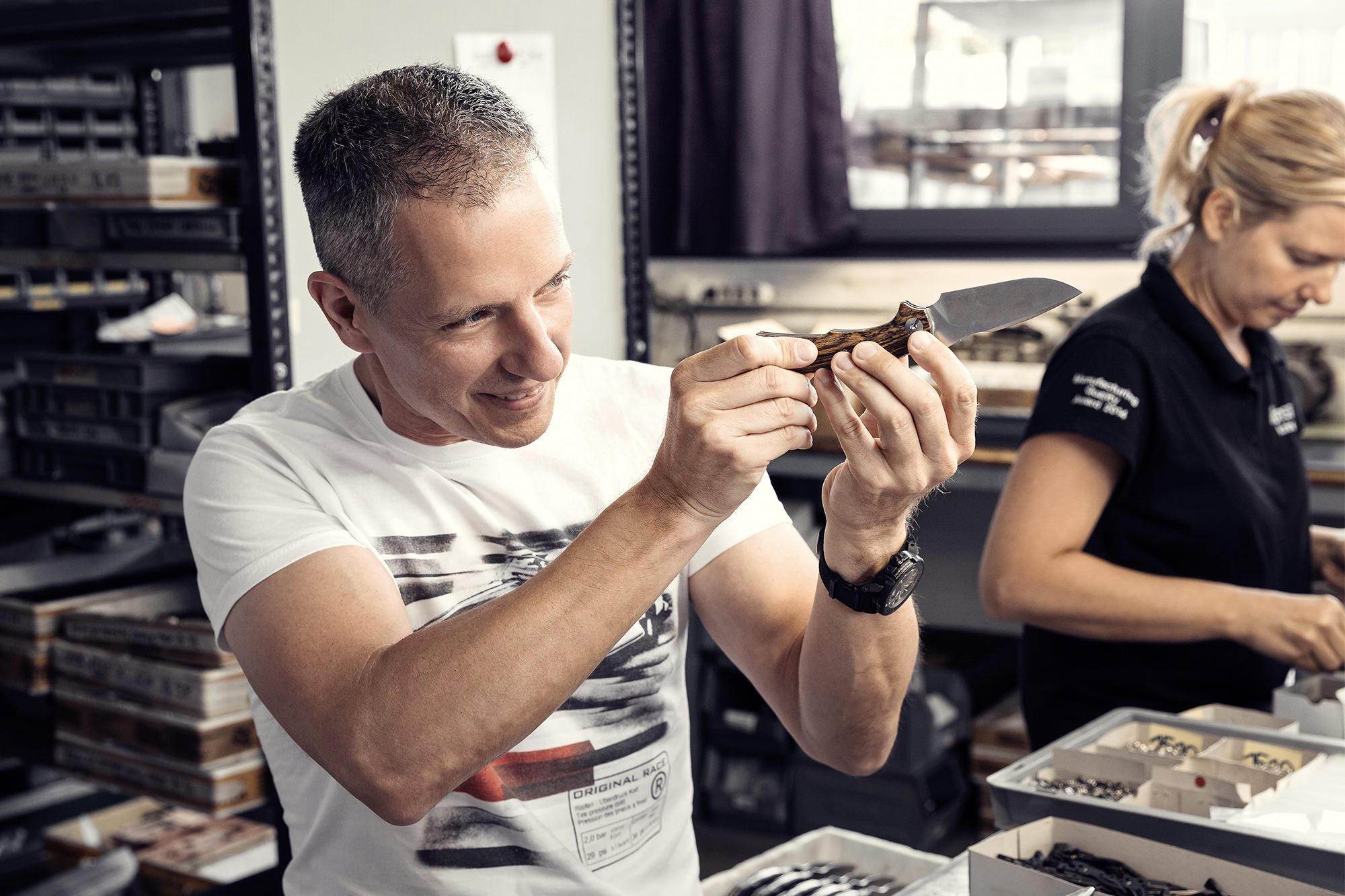 Dietmar Pohl - The man behind Pohl Force Dietmar Pohl stands for 25 years of passionate knife collecting, having designed well over 60 different knife models in series. He has written three books on the subject of knives that have been translated in multiple languages. Countless knife products in various trade magazines, 14 years of managerial and creative work in the Solingen knife industry - a man who knows knives! Taken all together, it can be summed up in one word: passion.
The passion for knives has influenced Dietmar Pohl his entire life. And it all began as a hobby. Upon completion of his master degree in business in 1994, this hobby became his profession as he took a position as a Marketing Director, Design and Product Manager in the knife industry in the blade capital of Germany: Solingen. Applying his commitment, expertise, instinct for trends, passion for design, knowledge of cutting-edge technology and material, he was able realize his vision for knife craftsmanship. He brings all of this with him when focusing on modern EDC knives, as well as tactical knives for the military and police.
To be completely clear however: Dietmar Pohl was never a member of the military or police force. Much too often, people from the knife industry falsely claim to have experience in such a unit. They do this to appear more interesting for marketing purposes or to be regarded as a source of practical experience. In his view, this is nothing more than a sign of a lack of respect for the men and women who actually have earned the right to be considered elite in their served profession.
His professional knowledge is based much more on personal contacts, discussions and confidential exchanges with people active in these fields, such as the GSG9, SEK, Kampfschimmer, KSK (German equivalents of the well-known American police SWAT units, and military Special Forces, Seals, Rangers respectively), as well as actual SWAT, Marine Force Recon members and the London MET Police personnel. This list could go on and on. Naturally, he has been committed to deepening his understanding of what makes a knife product truly great by actively taking part in practical training, such as the training offered to civilian members of the German military, SWAT training in Sterling, Virginia, bayonet and knife combat training with the U.S. Marine Force Recon in Camp Pendleton, San Diego to name some of such training he has completed.
And then, after 14 years, the realization of his own designs under his own name, from his own company, POHL FORCE the lifelong passion for knives does continue. He can now implement his ideas completely, making no compromise when it comes to the details that separate a good product to a masterly crafted one. Free from comprises stemming from managerial or production constraints.